When you decide you want to learn to play guitar, it can be tough to know where to start. There are so many beginner guitars on the market. How do you choose the best one without emptying your wallet? Many companies offer a great range of instruments to start with.
Ready to make that purchase and start playing? I've put together a list of the best beginner acoustic guitars that you can buy at an entry-level price. If you are working with a bigger budget, maybe try our list of acoustics under $500 or under $1500.
This affordable price point makes it easy for beginners to start learning without stressing over money spent. The truth is, you don't need to spend a lot of money to get a good guitar. Advanced players might want something of the highest quality, but new players don't need that.
When it comes to guitars, affordable doesn't mean bad quality. These beginner guitars are well-priced and provide everything you need to get started. Here are 10 great beginner acoustic guitars.
If you want a low budget guitar to start with, the Jasmine S35 Acoustic Guitar could be the perfect fit. This guitar looks great with a solid spruce top. The sides are made of laminated nato, instead of a standard mahogany. The quality is similar, but the nato is much less expensive. The fretboard is standard rosewood.
It also features more-than-average spacing between strings, making it comfortable for beginners. It's likely that strings may need to be replaced often and frequent tuning may be required. However, those are minor issues. You can't beat this well-built and portable acoustic guitar. It's perfect for those who want to try playing without breaking the bank.
Fender FA-100 Beginner Acoustic Guitar
Fender is an iconic guitar brand known for producing some of the best guitars on the market. The even better news? They don't disappoint, even with budget instruments. The Fender FA-100 Beginner Acoustic Guitar has an old school look and a dreadnought design. Still, it has a glossy finish that is pleasing to the eye.
So what about actually playing it? This is a full-size guitar. The fretboards are also close together, making it easy for someone who's starting out. The high-quality construction of the instrument lends itself to creating beautiful music.
It doesn't have the best quality sound, but a beginner's ear likely won't pick up the difference.
This Washburn HD10S acoustic guitar features a solid Sitka spruce top and mahogany sides. The spruce is cut thin, which gives the instrument more volume and a better tone over time. It also responds well to very intricate playing. This means that anyone who plays it can continue to grow with this guitar.
All things considered, the Washburn guitar a great investment. That said, the big tone and abilities can be difficult for a beginner to control. The body has a dreadnought shape and a satin finish. The bridge is rosewood, in line with others in this price range.
This guitar is a great choice for strumming and music styles like blues and bluegrass.
The Epiphone DR-100 Acoustic Guitar stands out because of the obvious attention to detail in its construction. The design of the instrument alone will give the impression that it sells at a higher price.
The body and neck are both made of mahogany and it has a spruce top. The mahogany gives the guitar a warm sound, while the spruce adds clarity. This makes the Epiphone DR-100 ideal for someone who wants to start performing.
The fretboard is made of rosewood and is easy to play. One thing to consider is that the guitar has higher action than others in the category. This may cause fatigue for new players. Bonus: the guitar also has an ambidextrous design. Anyone can pick this instrument up and start learning.
The Alvarez Artist Series AD30 Acoustic Guitar features a solid spruce top and mahogany on the back and sides. Both have a semi-gloss finish. The body also features hand-sanded bracing. Its mahogany neck is a bit wide, which some players may not find comfortable.
However, the top of the instrument is both high-quality and stylish. It also features a rosewood fretboard and chrome tuners. What sets this instrument apart from others on the market is the top.
It's cut a little thinner than most and creates a well-balanced, clear sound. While this instrument is great for beginners, has the sound quality of a much more expensive guitar.
Yamaha FG800 Solid Top Acoustic Guitar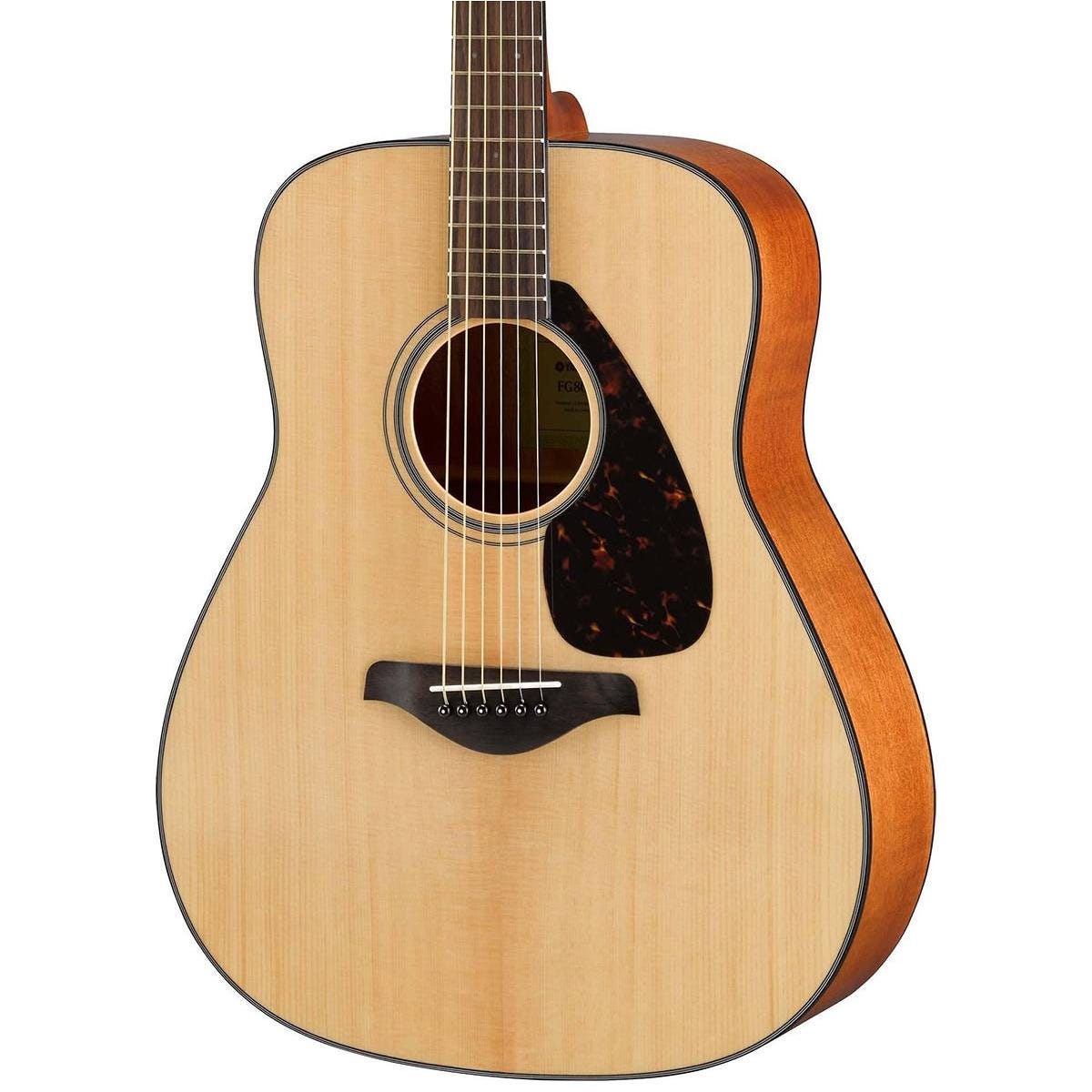 The Yamaha FG800 Solid Top Acoustic Guitar and the FG series as a whole, are known for being reliable. The FG800, in particular, features a spruce top and nato on the back and sides. The neck is smooth, making it very comfortable to play. This guitar also comes in a variety of colors that can suit any taste and personality. While the fretboard is rosewood, the nut and saddle are made of urea. This plastic is more resistant to wear and will result in less frequent maintenance.
This guitar also features a well-rounded sound, that is unexpected for the price. Technology developed by Yamaha contributes to the strong sound in the low and mid ranges. It does need some setup, so it's important to be aware of that before you buy. Read our full review here
The Bristol BD-16 Dreadnaught Acoustic Guitar a hidden gem. It has top-notch features at an affordable price.
Bristol is a small company and the craftsmanship behind this instrument is excellent in comparison to others in this range. It features a spruce top and a glossy finish.
The back and sides are mahogany. It also features 7 ply bonding through the body. The result is a strong, sturdy build that makes the guitar durable.
Overall, the guitar is comfortable to play and reviewers say that it produces a clear, bright tone. One of the drawbacks to this choice though is that glossy finish.
While it looks beautiful, when combined with the size of the guitar, it can cause slippage. If you don't mind having to readjust it while playing though, this won't be an issue for you.
The Takamine GD20-NS Dreadnought Acoustic Guitar features a solid cedar top, mahogany back and a satin finish. Though it's an affordable guitar, it doesn't look cheap.
One of the things that makes this guitar stand out is the fact that it features a cedar top instead of spruce. This makes the sound produced warmer than that of other acoustics.
Also, the bridge has a unique two-part saddle. This leads to better intonation, as the highest two strings have their own space. The slim neck also makes the guitar easy to play for beginners.
I have noticed some flaws in construction, like seeing a bit of extra glue on the body. That said, for the price, this is a surprisingly good guitar with a distinct sound profile. See more here.
The Yamaha FG830 is very similar to Yamaha's FG800. It's made of the same materials in all areas except for the back. The FG800 has a back made of nato, and the FG830 is rosewood.
Rosewood produces more dynamic tones and sustains better than nato does. That alone could be worth the difference in price to a player that's interested in a unique sound.
It can be difficult to choose between these two guitars because they have so much in common. However, it's unusual to find a guitar using rosewood on the back for this price. This is a guitar that many people are happy with and is an all-around great instrument to start with.
This Ibanez AC240 Acoustic Guitar is one of the most stunning on the list in both quality and design. It's a great choice for music lovers who are looking for a guitar they can afford now an use for years to come.
It features mahogany construction throughout the entire body. It also has a rosewood fretboard and a classic concert style. Additionally, it has a warm and soft tone that rings clear.
The shape and size of the body and neck make this extremely comfortable to play. This would be suitable for someone who has a tough time with heavy or wide instruments.
It can be difficult to play out of the box, as it's a bit high-action. However, that can be adjusted to fit your needs.
Ibanez AC240OPN Artwood Series Acoustic Guitar (Open Pore Natural)
Body Shape: Grand Concert BodyNeck: Mahogany Neck, dovetail neck jointBack/Sides: Mahogany Back and...
Technology moves forward at a frantic pace and the world of guitar craftsmanship is no different
In producing the AC240 Artwood Grand Concert Acoustic Guitar, Ibanez respected the rich tradition of...
Wrapping Up
Are you surprised that there are so many awesome guitars to choose from in this price range? There really is a guitar to fit every personality and budget.
If you want to buy now, you can purchase any of these guitars online or head to your local store. No matter what you choose, these are options that anyone can learn with.
Many of them have qualities that you'd find for more money elsewhere. Now, you have everything you need to know to pick the right guitar at the best price.
Last update on 2023-09-20 / Affiliate links / Images from Amazon Product Advertising API